Paint in Rajasthan with Patrick Cullen NEAC, PS
1st - 14th September 2018

A 'work alongside' oil and pastel painting holiday ideal for advanced students and experienced painters
Spend 6 full days painting in  the shimmering and glistening city of Udaipur famous for its white marbled City Palace and Lake Palace
Culminate with four full days painting the impressive Meherangarh Fort and blue houses of the desert city of Jodhpur
Stay in hotels with the best views of Udaipur and close to Jodhpur's Fort.
Fly in to Udaipur and out of Jodhpur with no overnights in Delhi or Mumbai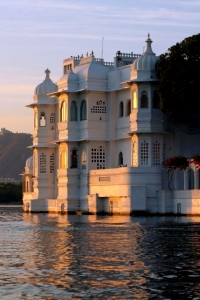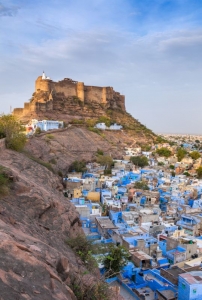 Udaipur                                                                                         Jodhpur
Nowhere presents such a colourful and varied palette as India and Rajasthan in particular. You will be painting in two cities that offer very different painting subjects and colours.
Udaipur is all about water, reflection and ornate white marble palaces, whereas Jodhpur is in the heart of the desert and is characterized by its brown earthy fortifications and blue adobe houses.
Udaipur is synonymous with Maharajas, Mughals and Rajputs and is known as the 'city of sunrise' . The honeycomb of white marble palaces and temples glisten and reflect in the shimmering cool waters of Udaipur's lake. Traditional ways of life have changed little and you'll see splashes of vibrant red, orange, pink and yellow clothing typically worn by Rajasthani men and women, women doing their washing on the shores of Lake Pichola and people bathing at the ghats. In the middle of Lake Pichola is the magnificent Lake Palace of 007 fame. Udaipur is one of the most serene, romantic and paintable places in India. The moon will be bright and just a few days from being full.
As you approach Jodhpur the mighty Meherangarh Fort standing above the blue mosaic of the old city is a formidable sight. Once inside the walled old city of Jodhpur you'll discover one of the most interesting cities in all of India. The old city is surrounded by 10km of walls with 101 bastions and seven gates. Within the old city is a labyrinth of narrow lanes with richly carved houses and temples, particularly the red sandstone buildings of the Sardar Bazaar. Many of the houses closest to The Fort are painted blue to deter termites, but also because this is the area where large numbers of the Brahmin community live and blue is the colour associated with this high caste. Meherangarh Fort stands on the escarpment above the old city. It dates from 1459 and typifies a balance between defences and flamboyant prosperity. The Fort is massive and offers many different painting subjects and fabulous views over Jodhpur and the Thar Desert.
The hotels have been chosen for their location, special atmosphere and intimacy. In Udaipur you'll stay in a special heritage hotel – a haveli ideally located on the banks of Pichola Lake and with the very best views of Jagdish Temple, Gangaur Ghat, City Palace, Lake Palace, Jag Mandir and Sajjangarh Fort. The haveli has just 20 ensuite rooms, and a panoramic restaurant terrace and tranquil courtyard, which are ideal for painting from. In Jodhpur you'll stay at another charming 21 roomed ancestral haveli, which is superbly located a few minutes' walk from the main square and clock tower in the heart of the old city and directly underneath The Fort. It has a wonderful roof top restaurant with views of Meherangarh Fort. The atmosphere is relaxed and the location perfect for painting in the old city and for access to The Fort.   Everything is organised for you by an accompanying travel escort from the UK and everything is included except lunches.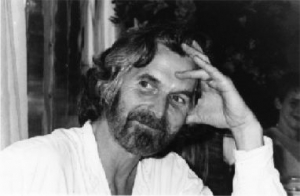 Patrick Cullen has been painting in India for over 15 years, some times on his own but also with Ken Howard and Peter Brown. He is very excited to introduce students to two of his favourite places and because he knows the areas extremely well he will be able to show you very good painting locations in close range of the hotels.   Patrick will provide much encouragement and is happy for you to work alongside him, but he does not do demonstrations or give tuition or critiques. He will be working in oils and pastels.
Patrick's paintings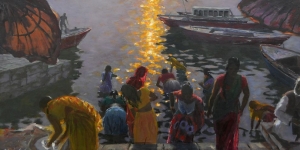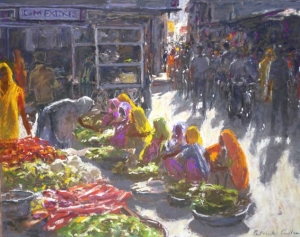 This is a unique opportunity to paint along side a great artist and in a great location where he loves to work.
Price per person:      £4,995.00
Single supplement :  £   300.00
Number of students:        8 – 12
Price includes flights, transfers, hotel accommodation, meals (except lunches), travel escort and guest artist.   
This holiday is operated on behalf of The Artist magazine, which has been offering overseas painting holidays since 1990 with renowned tutors.
Professional artists
Other Trips
Past Trips