Paint in Southern Italy with Richard Pikesley
5th - 14th September 2017

A tutorial painting holiday in a stunning location with a highly talented guest artist

The Apulia or Puglia region of Southern Italy has much to offer artists – a coastline that alternates between glistening limestone precipices and long stretches of sandy beaches, and amazing white towns clinging to dramtic cliffs as well as a fertile interior and the idyllic Valle d'Itria where you'll find almond and olive groves, vineyards, drystone walls, winding country lanes and conical bee-hive trulli and troglodyte dwellings, pretty hill top villages and beautiful baroque towns. Tourism is still small scale in Southern Italy and in September most visitors will have left, adding to its appeal for artists.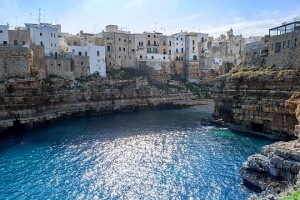 This painting holiday is based in Polignano a Mare, which has a spectacular position on the coast of Puglia. This sun-bleached little town is built on the edge of a craggy ravine above the pounding surf and pockmarked caves. In its atmospheric centro storico are several Baroque churches, an imposing Norman monastery and the original mediaeval Porta Grande.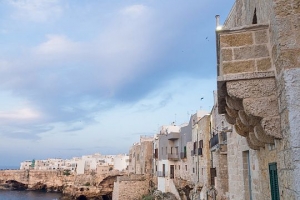 There will be four days with transport to visit different towns in Puglia.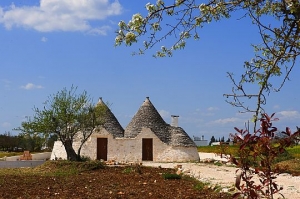 In the heart of trulli country is the lovely town of Locorotondo with its pedestrianized whisper-quiet centre of shimmering white houses with colourful window boxes. This little hill top town is rated one of the most beautiful towns in Italy.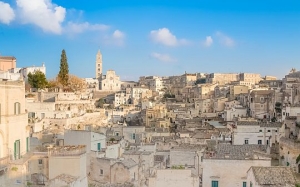 Alberobello is the most visited trulli town in the region, where you'll find a dense mass of 1500 trulli houses, but there are trulli houses dotted throughout the area.
In the town of Matera you'll see the troglodyte /semi-rock dwellings known as sassi. The lower town is a labyrinth of tiny white-washed houses and stairways that overlap and overhang one another. There are 130 churches hewn out of the rock in the formidable landscape around Matera, some of which date from 8 BC.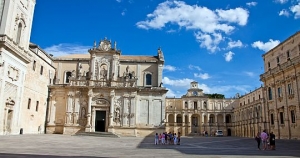 In contrast, historic Lecce is a beautiful baroque town. There are many churches and palazzi dating from the 16th, 17th and 18th centuries. The abundance of decorative work on its buildings has earned Lecce the name 'Baroque Florence'. The Piazza del Duomo is a baroque feast and the towns focal point.
Travel arrangements
Everything is included except lunches and drinks. An accompanying travel escort will be looking after you and all the arrangements. Flights are from London Gatwick to Bari and accommodation is in a very comfortable 4-star hotel on the outskirts of Polignano a Mare with wonderful coastal and town views.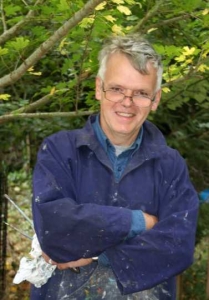 Richard Pikesley RWS PNEAC is a leading figurative painter who incorporates abstract elements in his work. He is the current President of the New English Art Club and regular exhibits in the top galleries in London. This is a wonderful opportunity to work alongside him in a dramatic location at a time of year when it is still pleasantly warm, the light is good and the summer visitors have departed.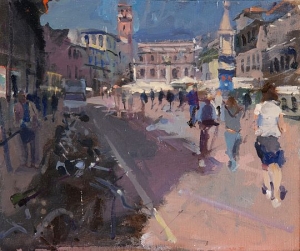 Whilst this painting holiday will not have a structured 'teaching' format Richard Pikesley is a very engaging and approachable guest artist who will give you much encouragement and guidance. 'I find it hard to resist teaching and will offer whatever is appropriate including demonstrations, talks and guidance. I am a great believer in painters learning by watching each other work, so I am very happy to paint with an audience and to talk about it.  I expect to take sketchbooks, watercolours and oils and my focus will be on oils but students can work in any medium.' Richard. 
Price per person :                                                                                                  £2,995.00
Single supplement:                                                                                               £  400.00
Number of students :                                                                                                8 – 12
Professional artists
Other Trips
Past Trips