Painting in Arles & The Camargue with Hazel Soan
27th April - 6th May 2011


Follow in the footsteps of Van Gogh and let the light in Provence transform your work and the wilderness of The Camargue inspire you.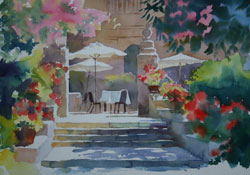 This is an exceptional painting holiday in the South of France offering an extraordinary range of subject matter from the wonderful Roman city of Arles, to the dramatic limestone mountains of the Alpilles Range, to the raw beauty of the Camargue with its wild horses, bulls, flamingos and lagoons.
In Arles, Van Gogh painted the Rhone from its banks adjacent to the hotel where you will be staying, La Place du Forum in the heart of the city, the Arena, where bullfights still take place and in the gardens at L'Espace Van Gogh (the sanatorium where he stayed). These sites and The Roman Amphitheatre are all within walking distance of our hotel. Van Gogh and Gauguin also painted at Les Alyscamps – a path flanked by tombstones on the outskirts of the city. Within a short distance to the north of Arles are the beautiful and dramatic limsteone Alpilles Mountains dotted with medieval villages, silhouetted with the dark forms of tall cypresses and knarled and twisted olive trees so loved by Van Gogh. In the opposite direction and again within a very short distance lie the flat lagoons and salt marshes of The Camargue – a desolate and beautiful wilderness that is the habitat of wild horses, bulls and flamingos.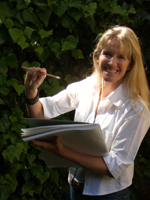 HAZEL SOAN is a hugely popular painter and art tutor. She featured in the Watercolour Challenge TV series and has published many instructional books including Watercolour Landscape Techniques. Hazel has a natural ability to inspire and teach students of all abilities. This holiday is particularly suitable for those who enjoy a semi-structured format and supportive group environment. As with all our holidays you can be assured of caring management and bespoke arrangements befitting artists' needs. To learn more about Hazel Soan click here
Bespoke arrangements
Everything is included (accept lunches) and organised for you by an accompanying programme coordinator from the UK, making sure that you are as comfortable as possible and that you have a truly wonderful painting holiday.
This holiday is on behalf of the Leisure Painter Magazine
Summary Itinerary
27 April
Depart London Gatwick.  Arrives Marseilles. Transfer to Arles.
Dinner in the hotel.
28 April
Full day painting in Arles.
29 April
Full day painting in The Camargue
30 April
Full day painting in Arles.
1 May
Full day painting in Arles
2 May
Full day painting in the Alpilles Mountains
3 May
Full day painting in Arles
4 May
Full day painting in The Camargue
5 May
Full day painting in Arles
6 May
Depart Marseilles. Arrive London Gatwick.
| | |
| --- | --- |
| Price per person :        | £1,895.00 |
| Single room supplement: | £270.00 |
Price includes: scheduled flights, 9 nights hotel in Arles, breakfast & dinner daily, transport to visit The Camargue and Alpilles, programme coordinator from the UK, guest artist.
Other Trips
Past Trips

What the experts & clients say
"" Thank you for organising the extra flights and accommodation etc... The trip was a success for me. Eileen was the most thoughtful and hard working attendant/guide - she tended to our every needs - nothing was too much bother to her. Lachlan Goudie was such a gentleman. He was enthusiastic, kind and so very generous of advice and inspiration. He cheered us up and gave us hope when we were struggling with our work. We all loved him and are in awe of his beautiful water colours and gouache paintings.  Thank you for everything.""
""We had so many different experiences, the accommodation was all excellent and very varied.  Our viewing of the wildlife was exceptional, and we all managed to complete several paintings and sketches of animals, birds and landscapes.  As always, Hazel was an inspiring teacher." "
""Our group is led by Professor Claudio Sillero....his decades of experience in this region and his hardy colleagues, guarantee sightings of wolves  They do not disappoint." "Next we climb up and across the Sanetti Plateau through unmatched beauty in every direction.  Small klipspringer, antelopes and hyrax, ( a pint-sized relative of the elephant), dot the hillsides.  our camp site is magnificent!  It is surrounded by towering basalt formations the locals call 'the soldiers.'  ....Can any place be more perfect?" "Our successful adventure is coming to a close, but we have been fortunate to site 30 wolves in 11 different packs, which equates to 10% of all the wolves living in the Bale Mountains National Park." "