Paint on the Greek Island of Symi with Haidee-Jo Summers ROI ARSMA
1st - 10th June 2019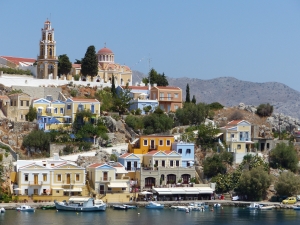 Symi is a painters dream. It is probably the most quintessential sun-drenched island in Greece. It can only be reached by boat and has very few hotels so greatly appeals to artists and writers.
Paint on the Greek Island of Symi with Haidee-Jo Summers ROI ARSMA
To make an enquiry please call
or
complete our enquiry form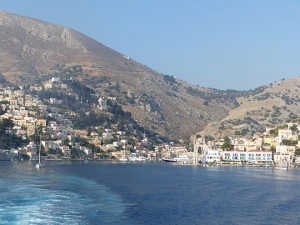 Most of the 2500 population live in the pretty port town of Gialos. Its pastel coloured neo-classical villas and mansions cling to the hillsides above the perfect semi-circled natural harbour where the water is as deep a blue as the skies.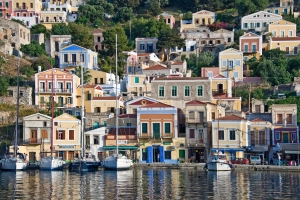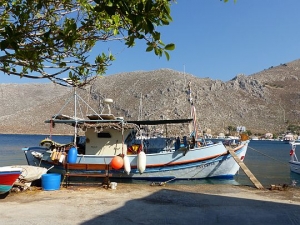 The harbour area bustles with activity. There is a constant toing and froing of fishing boats, ferries and yachts and the quayside is lined with shops, tavernas and a clock tower.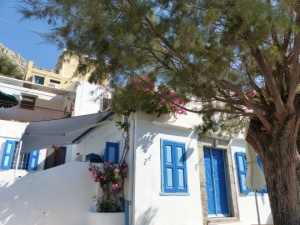 Above the hustle and bustle is the chorio (old town) which is a maze of steps and alleyways and where there is an air of calmness and where life has changed little over the centuries. Children play in the alleyways, old ladies dressed in black sit crocheting on doorsteps, men gather under trees and in tavernas to play backgammon and cats sun themselves around flower pots. There are no motorised vehicles in the old town.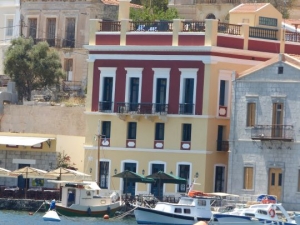 Your hotel is a former Sea Captains home on the water's edge. The hotel has retained all the traditions of its former era and feels more like a private home than a hotel. Its splendid roof top terrace is ideal to paint from with wonderful views across the harbour and the Chorio.
There are very few hotels that offer such a personal and special experience and it captured the attention of Rick Stein who stayed and filmed part of his last European TV series here. There is a pretty swimming beach just around the headland from the hotel.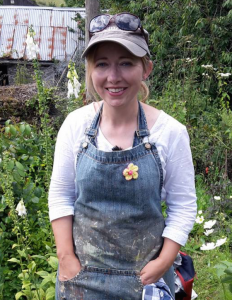 Haidee-Jo Summers ROI, ARSMA is an accomplished en plein air figurative artist. She is a very approachable host artist who makes every student feel very welcome and comfortable. Haidee-Jo will explain at the beginning of the holiday how she plans to work with you and there will be a mixture of tuition, demonstrations and painting time. You may choose to work alongside Haidee-Jo or independently. This semi free-style painting holiday is most suitable for intermediate and advanced students working in oils. Haidee-Jo will be working in oils, but all media are welcome.
Paintings by Haidee-Jo. Click here to see more.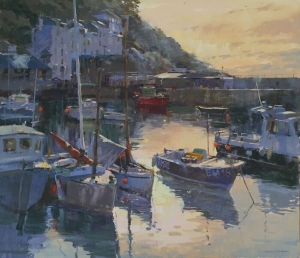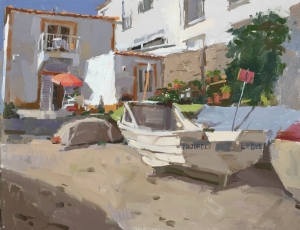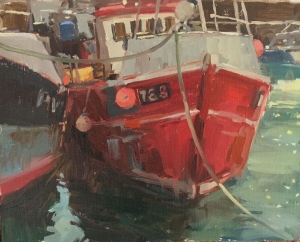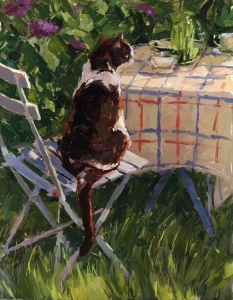 EXHIBITIONS
Haidee-Jo is an exhibiting artist in the British Plein Air Painters' exhibition, The Menier Galley, Southwark Street, London 16 – 20 October 2018
Practical details:
Flights are to Rhodes and the first night will be spent in a hotel overlooking the old town of the Knights of St John. There will be an opportunity to paint here before taking the ferry to Symi the following day. The local bus will be used to visit different parts of the island. Breakfast and dinners are included and you will be well looked after by an accompanying travel escort.
Number of students : 8 – 12 
Price per person : £3,695.00
Superior seaview room supplement: £360.00 (subject to availability)
Fully inclusive price except for lunches.
This holiday is organised in association with 

  magazine
Paint on the Greek Island of Symi with Haidee-Jo Summers ROI ARSMA
To make an enquiry please call
or
complete our enquiry form
Professional artists
Other Trips
Past Trips

What the experts & clients say
""Just wanted to drop you a quick line to say how very much I enjoyed painting with Pete in Havana.  I loved it all, the City, the painting, the company, the Mojito's and the food, and it was great to have Jacqueline there organising us all. Many thanks and I hope to take part again next year.""
"" Thank you for organising the extra flights and accommodation etc... The trip was a success for me. Eileen was the most thoughtful and hard working attendant/guide - she tended to our every needs - nothing was too much bother to her. Lachlan Goudie was such a gentleman. He was enthusiastic, kind and so very generous of advice and inspiration. He cheered us up and gave us hope when we were struggling with our work. We all loved him and are in awe of his beautiful water colours and gouache paintings.  Thank you for everything.""
""Thank you Lucy for giving us such a wonderful time. I so appreciated your expertise and your personality. I learned so much and very much appreciated my time painting with you. Eileen's support was wonderful and made everything go so smoothly from the moment we left Heathrow until our return.  I enjoyed meeting everyone and sharing such special times together, both arty and spiritual. This was a trip of a lifetime and I'll never forget it."  "