The Canadian Rockies with David Bellamy
1st - 14th September 2013

Capture The Rockies at their greatest and wildest with one of our most famous landscape painters and tutors. Two-centre holiday based at Lake Louise in Banff National Park and Sunwapta Falls in Jasper National Park.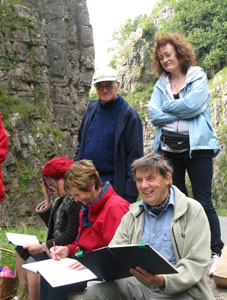 David Bellamy is a very popular tutor and well known for his watercolour landscape painting and love of wild mountain areas, so he is the perfect guest artist for this wonderful painting holiday to Banff and Jasper National Parks in the heart of the Canadian Rockies. He is known to many through his workshops, videos, books, and articles in the magazine. David will introduce you to the lighting, moods and aerial perspective of The Canadian Rockies. He will show you how to make the most of the sublime views, how to suggest the immense scale of the place, and how to give power to your compositions. He will also look at how to introduce flowers, wildlife and interest into a landscape. To learn more about David Bellamy click here
All the arrangements are taken care of for you by an accompanying programme co-ordinator from the UK, enabling you and David  to concentrate solely on painting.   You will be staying in a very comfortable mountain lodges in Lake Louise and Sunwapta Falls. Scheduled flights, transport most days and all meals are included except lunches.
More details to follow
This painting holiday is suitable for all abilities.
Limited to 14 students
Price per person in a twin: £4,995.00
This holiday is on behalf of the Leisure Painter Magazine 
1 September
1335 hours depart London Heathrow.
1525 hours arrive Calgary. Transfer to Deer Lodge in Lake Louise in Banff National Park (approx. 2-3 hours).
2, 3, 4, 5 and 6 September
Five full days painting in and around Lake Louise – one of the most famous and scenic areas in The Rockies with plenty of painting subjects just a short walking distance from the lodge. In addition Paradise Valley, Plain of the Six Glaciers, Bow Lake, Peyto Lake and Moraine Lake all within a short driving distance.
7 September
Drive north along the Icefields Parkway, over the Saskatchewan Crossing and to the Sunwapta Falls Resort in Jasper National Park.
8, 9, 10, 11 & 12 September
Enjoy another 5 full days of painting in and around Sunwapta Falls. This is another area of outstanding natural beauty with the Columbia Icefield, Athabasca Glacier, numerous waterfalls, rivers and excellent lookout points providing ideal painting locations.
13 September
1840 hours depart Calgary.
14 September
1015 hours arrive London Heathrow.
Other Trips
Past Trips
What the experts & clients say
""Our group is led by Professor Claudio Sillero....his decades of experience in this region and his hardy colleagues, guarantee sightings of wolves  They do not disappoint." "Next we climb up and across the Sanetti Plateau through unmatched beauty in every direction.  Small klipspringer, antelopes and hyrax, ( a pint-sized relative of the elephant), dot the hillsides.  our camp site is magnificent!  It is surrounded by towering basalt formations the locals call 'the soldiers.'  ....Can any place be more perfect?" "Our successful adventure is coming to a close, but we have been fortunate to site 30 wolves in 11 different packs, which equates to 10% of all the wolves living in the Bale Mountains National Park." "
"" Thank you for organising the extra flights and accommodation etc... The trip was a success for me. Eileen was the most thoughtful and hard working attendant/guide - she tended to our every needs - nothing was too much bother to her. Lachlan Goudie was such a gentleman. He was enthusiastic, kind and so very generous of advice and inspiration. He cheered us up and gave us hope when we were struggling with our work. We all loved him and are in awe of his beautiful water colours and gouache paintings.  Thank you for everything.""
"I have had the good fortune to work with Liz Drake at Spencer Scott Travel taking small groups on safari to East Africa and India. All aspects of the journey are handled in a most personal, thorough and sensitive way, and all the arrangements are organised with admirable attention to detail. I have always boarded the plane from London knowing we were all going to have the holiday of a lifetime."