The Canadian Rockies with David Bellamy
1st - 14th September 2013

Capture The Rockies at their greatest and wildest with one of our most famous landscape painters and tutors. Two-centre holiday based at Lake Louise in Banff National Park and Sunwapta Falls in Jasper National Park.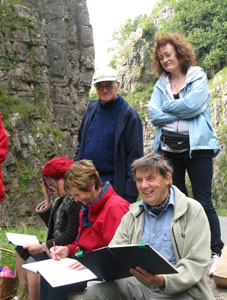 David Bellamy is a very popular tutor and well known for his watercolour landscape painting and love of wild mountain areas, so he is the perfect guest artist for this wonderful painting holiday to Banff and Jasper National Parks in the heart of the Canadian Rockies. He is known to many through his workshops, videos, books, and articles in the magazine. David will introduce you to the lighting, moods and aerial perspective of The Canadian Rockies. He will show you how to make the most of the sublime views, how to suggest the immense scale of the place, and how to give power to your compositions. He will also look at how to introduce flowers, wildlife and interest into a landscape. To learn more about David Bellamy click here
All the arrangements are taken care of for you by an accompanying programme co-ordinator from the UK, enabling you and David  to concentrate solely on painting.   You will be staying in a very comfortable mountain lodges in Lake Louise and Sunwapta Falls. Scheduled flights, transport most days and all meals are included except lunches.
More details to follow
This painting holiday is suitable for all abilities.
Limited to 14 students
Price per person in a twin: £4,995.00
This holiday is on behalf of the Leisure Painter Magazine 
1 September
1335 hours depart London Heathrow.
1525 hours arrive Calgary. Transfer to Deer Lodge in Lake Louise in Banff National Park (approx. 2-3 hours).
2, 3, 4, 5 and 6 September
Five full days painting in and around Lake Louise – one of the most famous and scenic areas in The Rockies with plenty of painting subjects just a short walking distance from the lodge. In addition Paradise Valley, Plain of the Six Glaciers, Bow Lake, Peyto Lake and Moraine Lake all within a short driving distance.
7 September
Drive north along the Icefields Parkway, over the Saskatchewan Crossing and to the Sunwapta Falls Resort in Jasper National Park.
8, 9, 10, 11 & 12 September
Enjoy another 5 full days of painting in and around Sunwapta Falls. This is another area of outstanding natural beauty with the Columbia Icefield, Athabasca Glacier, numerous waterfalls, rivers and excellent lookout points providing ideal painting locations.
13 September
1840 hours depart Calgary.
14 September
1015 hours arrive London Heathrow.
Other Trips
Past Trips