Verona & Lake Garda with Hazel Soan
28th September - 9th October 2013

A dream Italian painting holiday capturing the romantic city of Verona and beautiful Lake Garda with one of our most popular tutors and staying in charming luxury boutique hotels.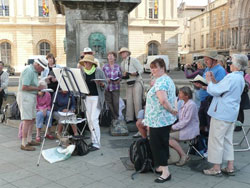 A dream Italian painting holiday capturing the romantic city of Verona and beautiful Lake Garda with one of our most popular tutors and staying in charming luxury boutique hotels.
HAZEL SOAN is a hugely talented and popular artist. She featured in the Watercolour Challenge TV series and has published many instructional books including Watercolour Landscape Techniques. Hazel is an excellent teacher providing individual guidance and group demonstrations.  She has a natural ability to inspire students of all abilities and her enthusiasm and devotion is infectious. Every day will be spent painting. You may choose to work alongside Hazel or work independently.  To learn more about Hazel Soan click here
Verona and Lake Garda are two places Hazel Soan has long wanted to paint.  Verona is one of the most romantic cities in the world and after Venice is the finest art centre in Venetia. Standing on the banks of the Adige, Verona is compact and easy to walk around.  Famous for its Roman Arena, medieval castle and Juliet's balcony, as well Pisanello and The Veronese School, so you will have plenty to paint over the four days here.
A short drive away but in complete contrast is Lake Garda, the largest and most beautiful of lakes in Italy.  Lined with numerous villages, villas and Scaliger castles and surrounded by evergreen hills, mountains and terraced lemon groves, you will find plenty of subject matter to paint during your six days here. A public boat service operates on the lake enabling you to visit all these places.
All the arrangements are taken care of for you by an accompanying programme co-ordinator from the UK, enabling you and Hazel to concentrate solely on painting.   In both Verona and on Lake Garda we have hand-picked two of the loveliest hotels in Italy. Both are luxury properties with lots of character, excellent restaurants and perfect locations. In Verona the hotel is a former Palazzo and museum with original frescoes and traditional parquet flooring and just 5 minutes' walk from the Arena.  On Lake Garda we have chosen an elegant 33 roomed villa with beautiful gardens and lake views. It is the most complete and best preserved example of Liberty style in Italy with frescoes of Bertolotti and Landi, large wrought iron volutes and refined wood inlay. Scheduled flights and all meals are included except lunches.
This painting holiday is suitable for students of all abilities
Limited to 14 – 18 students
Price per person in a twin :  £3,275.00
This painting holiday is arranged in association with The Artist Magazine & Leisure Painter Magazine 

What the experts & clients say
"" Thank you for organising the extra flights and accommodation etc... The trip was a success for me. Eileen was the most thoughtful and hard working attendant/guide - she tended to our every needs - nothing was too much bother to her. Lachlan Goudie was such a gentleman. He was enthusiastic, kind and so very generous of advice and inspiration. He cheered us up and gave us hope when we were struggling with our work. We all loved him and are in awe of his beautiful water colours and gouache paintings.  Thank you for everything.""
"I love working with Spencer Scott because I can be confident that, wherever we go, the Company will have secured the best available accommodation, services and back-up. This frees me to concentrate on what I enjoy most, which is finding really special wildlife experiences to share with our clients"
""Just wanted to drop you a quick line to say how very much I enjoyed painting with Pete in Havana.  I loved it all, the City, the painting, the company, the Mojito's and the food, and it was great to have Jacqueline there organising us all. Many thanks and I hope to take part again next year.""