Improve your painting in the Italian Lakes with Terry Harrison & Fiona Peart
29th May - 5th June 2016

Instructional painting holiday in Italy for beginners & intermediates
Two expert art tutors as guides – artists Terry Harrison & Fiona Peart
Extremely paintable location on the shores of Lake Orta
Comfortable hotel accommodation & flights included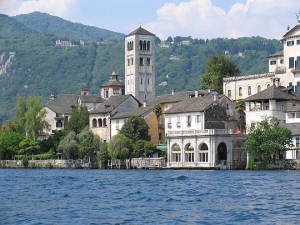 Improve your painting in the Italian Lakes with Terry Harrison & Fiona Peart
To make an enquiry please call
or
complete our enquiry form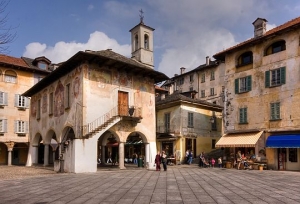 Painting the beautiful Italian Lake Orta
Lake Orta is one of the smallest and most beautiful of the Italian Lakes and is surrounded by the lovely wooded Piedmont hills. The jewel of Lake Orta and a source of endless painting opportunities is the tiny island of San Giulio, with its bell tower, Basilica and fine villas, that sits directly opposite the little town of Orta and our hotel. The piazza with its rather faded Renaissance buildings and the serene lakeside panorama make Orta a perfect painting location. Its 16th century town hall is decorated with frescoes and many of the houses have wrought iron balconies draped with flowers, and there are lots of narrow alleyways and cobbled streets to paint. The local ferry service enables you to paint on the island of San Giulio and in other lake side villages, some of which have weekly markets.
The Workshop
On this painting holiday you will have the benefit of two well-known tutors, who complement each other and have a wealth of workshop experience. Each day will be spent painting outdoors with Terry and Fiona. There will be one main tutor who will lead the painting each day and a secondary tutor to assist and prepare for the following day. The emphasis will be on creating studies and paintings incorporating the atmosphere of beautiful Lake Orta.
Terry Harrison will provide encouragement and guidance to students who wish to complete an entire painting in one sitting, covering painting techniques needed to complete buildings, reflections, boats, windows and doorways.
Fiona Peart will concentrate on drawing skills, learning to look, simplifying subjects as well as painting figures, encouraging sketch book work and producing a series of vignettes, ideas and small watercolour studies.
This painting holiday is most suitable for beginner and intermediate students who will benefit from a structured format and lots of teaching. Students may choose to work in any medium.
Your Painting Workshop Tutors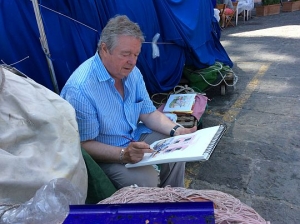 Terry Harrison is a well-known landscape painter and tutor, running workshops for art societies throughout the UK. He has written and produced many instructional books and DVD's on painting in watercolours and with acrylics. His career started in graphics and as an illustrator before becoming a full–time tutor.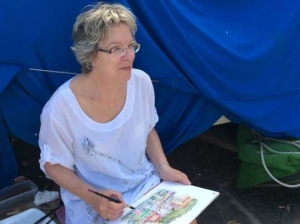 Fiona Peart studied drawing and watercolour painting at the Flemish Academy of Fine Art. The effects of light and shadows, particularly on water, inspire her, but above all, her passion is helping others discover the joy of painting and their own talent. Fiona has also produced many practical books and DVD's and regularly gives demonstrations at art shows.
Hotel & Travel Arrangements
Comfortable en-suite accommodation is provided at a small friendly family-run hotel in the little town of Orta. Scheduled flights are from London Heathrow to Milan. Everything is organized for you and you are well looked after from the moment that you arrive at the airport by an accompanying travel director.
Paint the Italian Lakes Trip Details:
Price: £1,995 per person (£200 single supplement)
14 – 18 beginner & intermediate students
Price includes: flights, hotel, breakfast and dinner daily, two art tutors and travel escort.
This painting holiday is offered in association with The Artist & Leisure Painter magazines
Improve your painting in the Italian Lakes with Terry Harrison & Fiona Peart
To make an enquiry please call
or
complete our contact form
Professional artists
Other Trips
Past Trips