Wildlife & photographic hosts
Mountain instructors & leaders
Alan Hinkes OBE
Steve Elliott
Dave Green
John Whittle
Frag Last
Our partners & clients:
BBC Wildlife
Born Free Foundation
RSPB
Royal Photographic Society
Royal Institute of Watercolours
The Scout Association
Rotary Clubs of GB
Birmingham University
NFU
George Corderoy & Co
Les Routiers
Booker Wholesale Foods
Burlington Art Fair
Channel 4
The Artist Publishing Company
EMAP Active
Geographical
The Great Outdoors
Financial Times
Daily Telegraph
Bird Watching
Sir John Soane Museum
Ethiopian Wolf Conservation Programme
Painted Dog Conservation
Tusk
Painting Holidays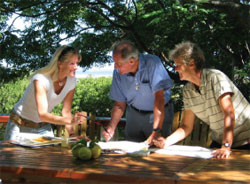 We have been arranging dedicated painting holidays in association with The Artist and Leisure Painter Magazines for over two decades.  We have also organised a special indepth study and painting course in Rome for the Sir John Soane's Museum .  We know how important light and subject matter are when selecting a painting destination.We also know that timing is critical – the weather has to be suitable for working outdoors and the height of the season must be avoided to allow you more space and peace.
We only work with professional artists who are chosen as much for their style as their ability, enthusiasm and dedication to help you develop and improve your skills and produce lots of work.
We are continually researching new destinations and hotels and re-visiting old ones to ensure that our product knowledge is up-to-date, so that we can offer you new and special experiences and that our information is accurate. We select the most reliable travel arrangements and the most convenient and comfortable accommodation.
We are trusted for our excellence, the personal service and value for money we provide.  Everything is organised and included for you except lunches. We do not cut corners and there are no hidden extra costs. An accompanying travel director takes care of all the arrangements, freeing you and the guest artist to paint every day.
Each year we select different painting destinations and each holiday has just one departure date for between ten and eighteen students.
Past Trips


What the experts say…
"I have had the good fortune to work with Liz Drake at Spencer Scott Travel taking small groups on safari to East Africa and India. All aspects of the journey are handled in a most personal, thorough and sensitive way, and all the arrangements are organised with admirable attention to detail. I have always boarded the plane from London knowing we were all going to have the holiday of a lifetime."
"I've done lots of trips tour guiding for Spencer Scott Travel (Cuba, Peru, South Africa, Botswana, Uganda) and they have all been of the highest order, well planned, great itineraries, excellent support and clients always totally satisfied. They are a total pleasure to work for and I have loads of great memories to treasure as a result. Check them out if you want something special."
"I love working with Spencer Scott because I can be confident that, wherever we go, the Company will have secured the best available accommodation, services and back-up. This frees me to concentrate on what I enjoy most, which is finding really special wildlife experiences to share with our clients"